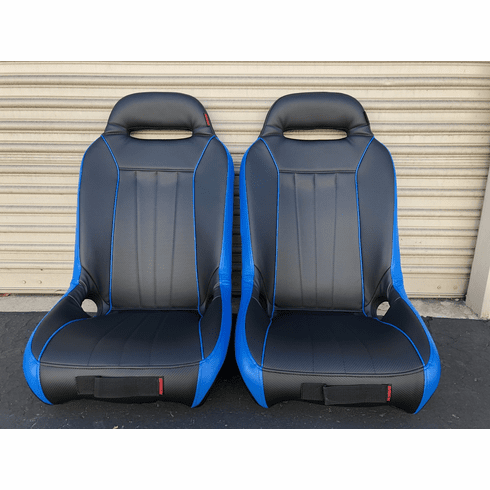 UTVGiant -"Standard Extra Wide" -Blue *Ships in 6-8 Days After Ordered*
Please use drop down menu above to select your RZR's year range.

Price is for a Pair of seats, two seats. We do not sell them individually. FREE SHIPPING!

Order two pair and we'll make the rear seats with 4" shorter bottom cushions for better fit in the rear of a RZR.

Hand made in California, these suspension seats will exceed your expectations, at a price hundreds less than similar seats. Why? Because we sell them factory direct and cut out the dealer middlemen. Steel frame with quality inner suspension, these seats are built with the highest grade materials. Marine grade vinyl. Comes with "sticks" to allow the use of the stock factory slider bases. These seats are built to the "Extra Wide" specs of PRP seats. It's not too big, it feels right and not too big for all body types. Drain mesh in seat crack. 5th point crotch strap guide. Pull string base release on the back, these seats have all the features you want/need/expect. The Standard seats can be used with the factory seat belts or aftermarket harnesses. You will love these seats! And your wife will too!
Product Reviews for UTVGiant -"Standard Extra Wide" -Blue *Ships in 6-8 Days After Ordered*